Create projects and subprojects
In addition to regular projects, in Planfix you can also create subprojects, which are
projects that are carried out as part of a larger project. This setup
is very convenient for large-scale, long-term projects: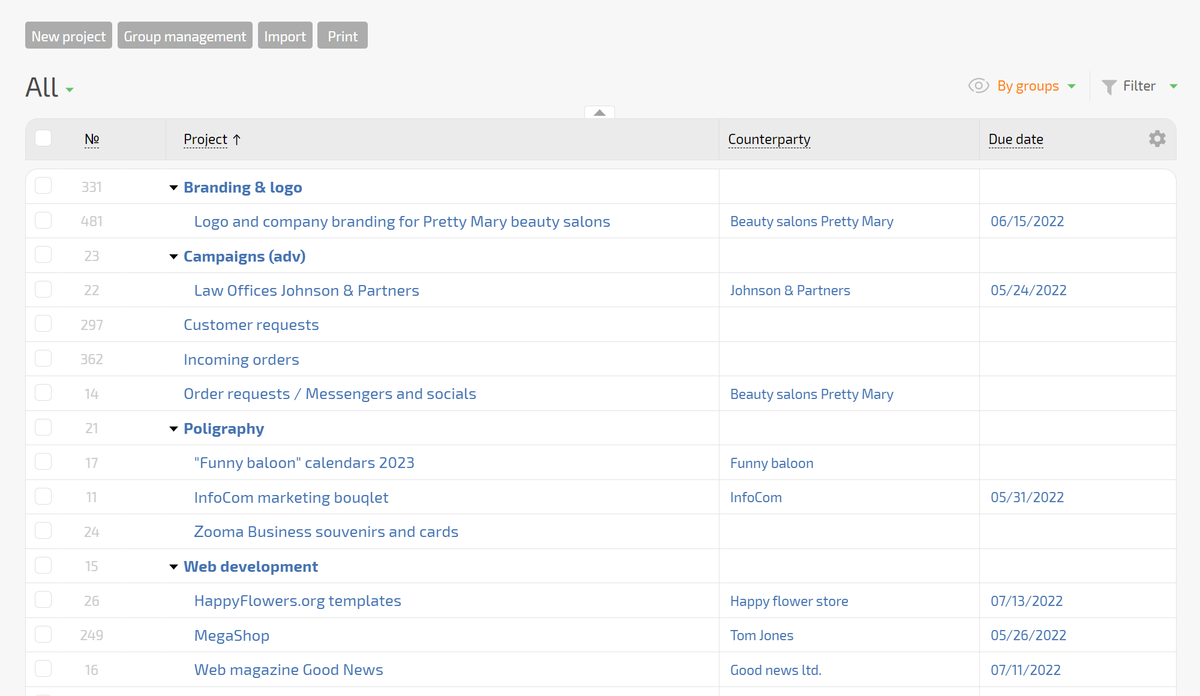 Projects
Subprojects
Projects can also be grouped. This is useful when your company handles
a lot of diverse work — create project groups
for each area of work: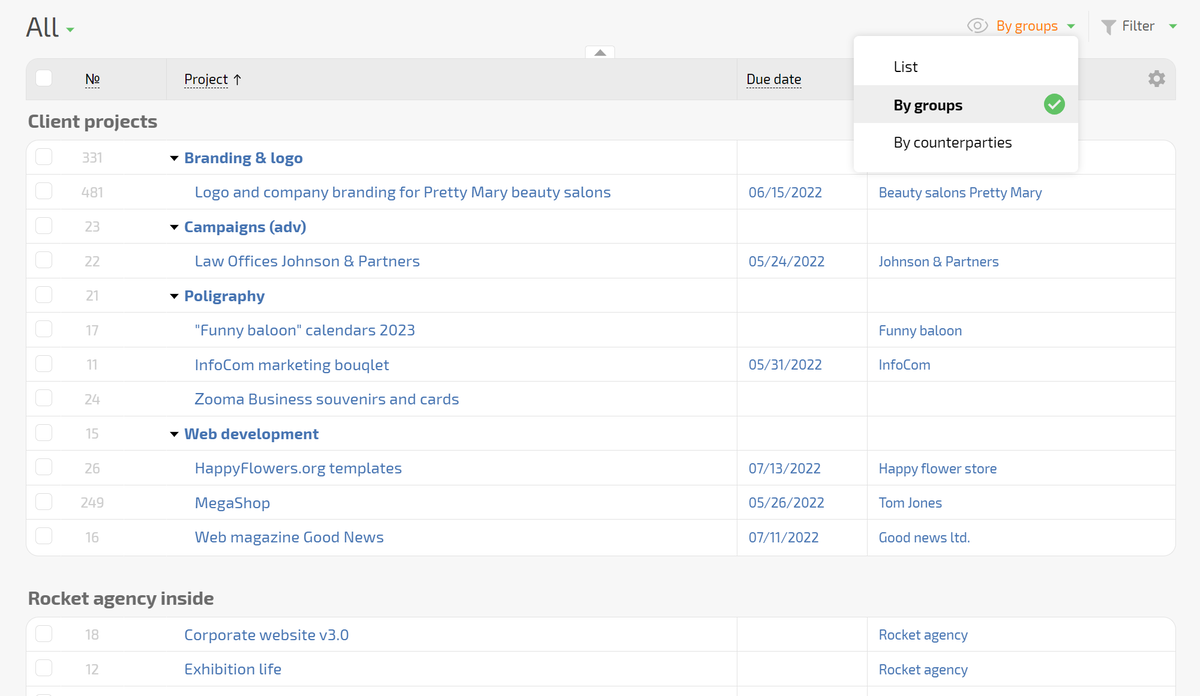 Project Group
You can add additional fields to project cards. They can be
populated when creating a project or when working on it. Data from these
fields can be viewed in lists and reports. And you can also select projects based on the
values of these fields: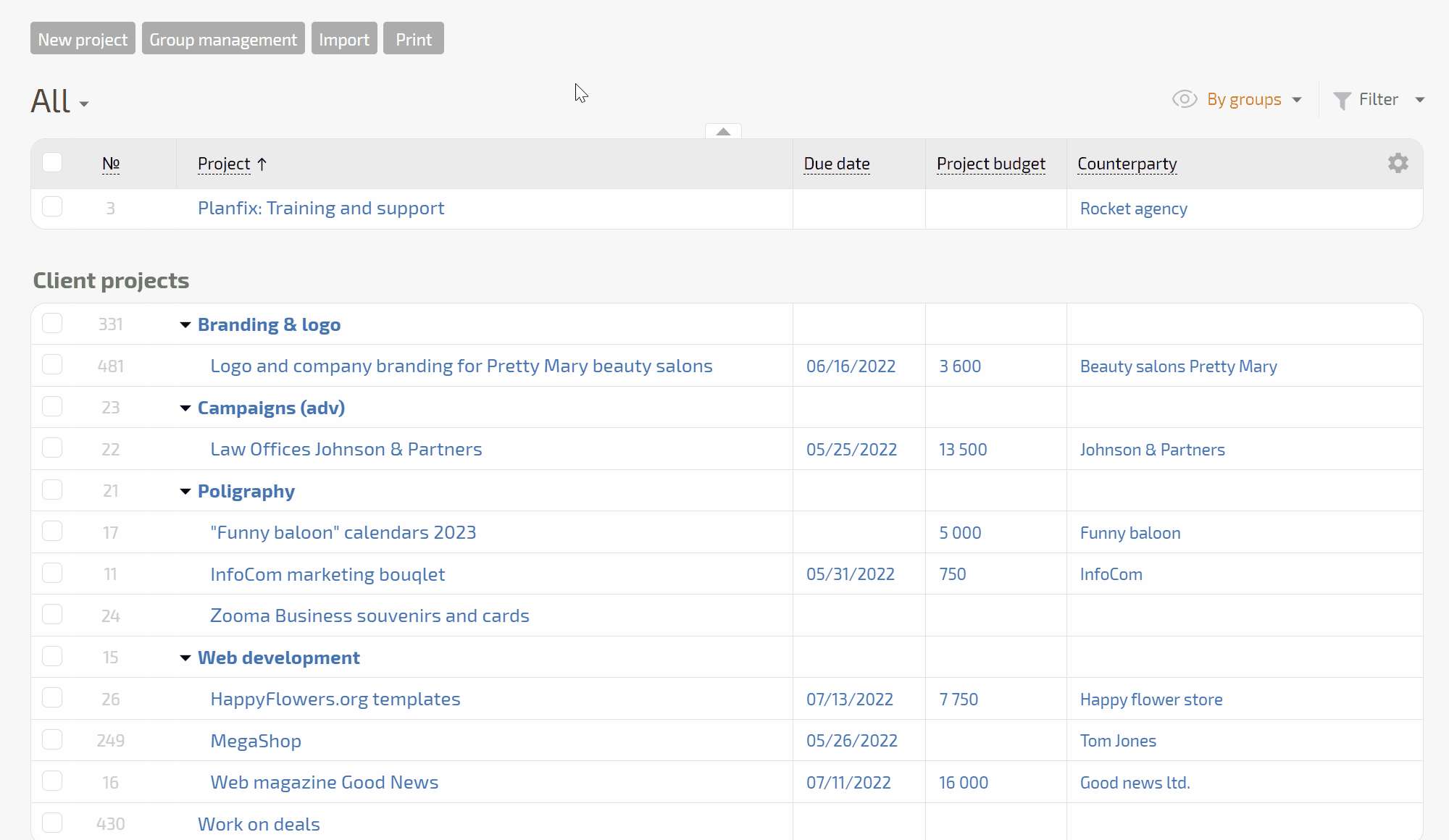 Fields you need
Adding tasks
Tasks can be added manually, or they can be imported: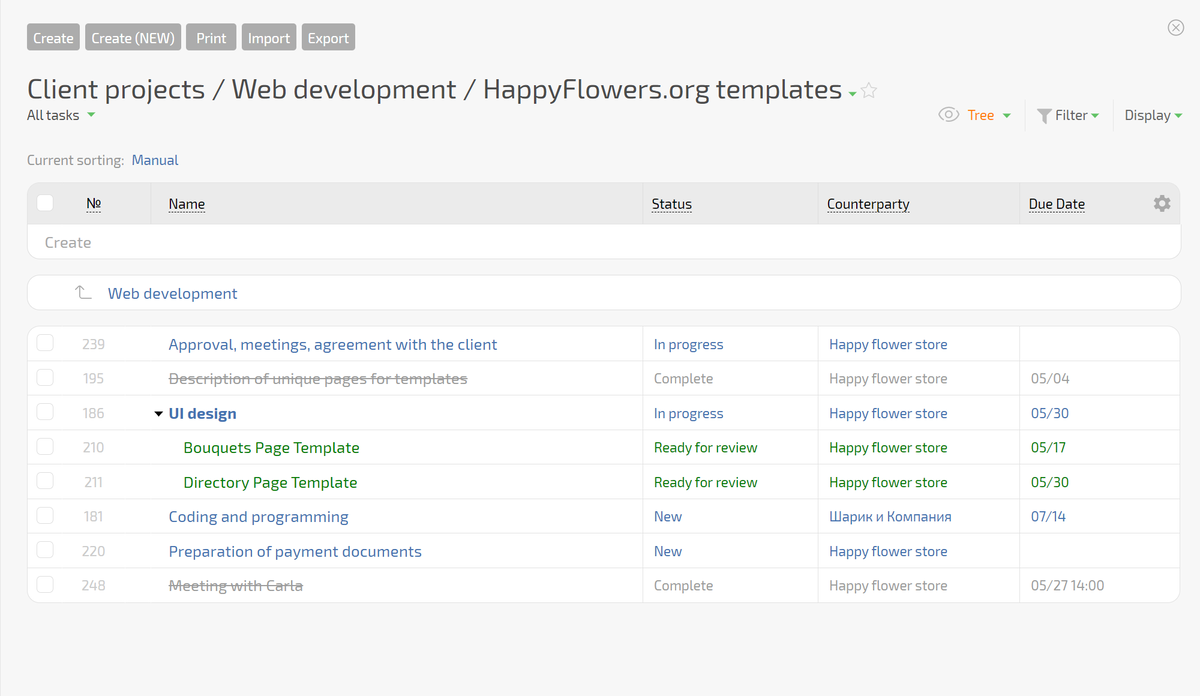 Create a task
Import a task
Create a task quickly. Super convenient!
Learn more about Tasks
Templates are very convenient for routine projects. These templates can
contain hundreds of tasks, broken out by role. When a new project is created using a
template, employees get a clear overview of their work: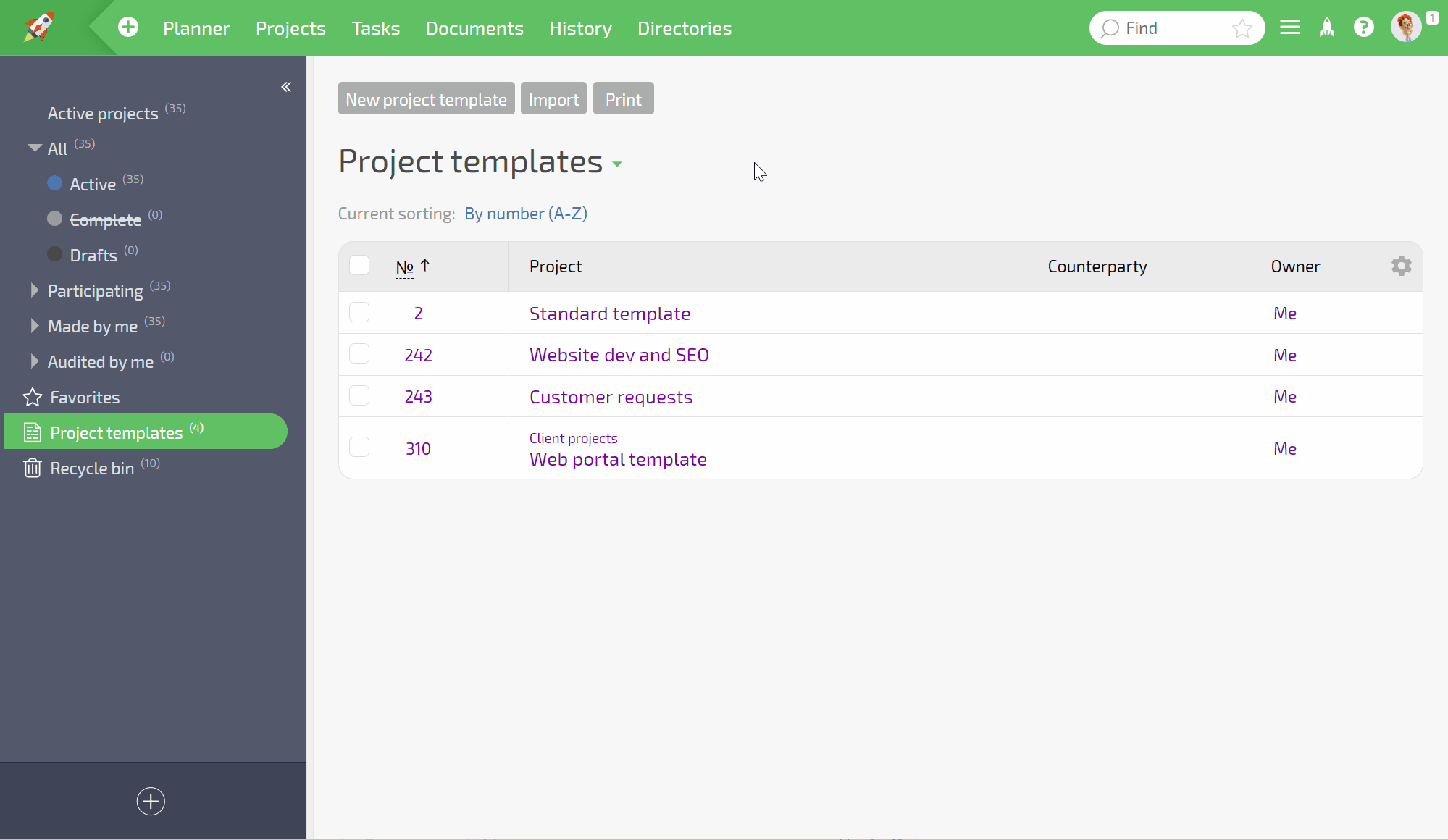 Planning work
Gantt charts usually come to mind when thinking about planning work. In Planfix, Gantt charts are dynamic —
you can use them to change task deadlines and links, not just view them: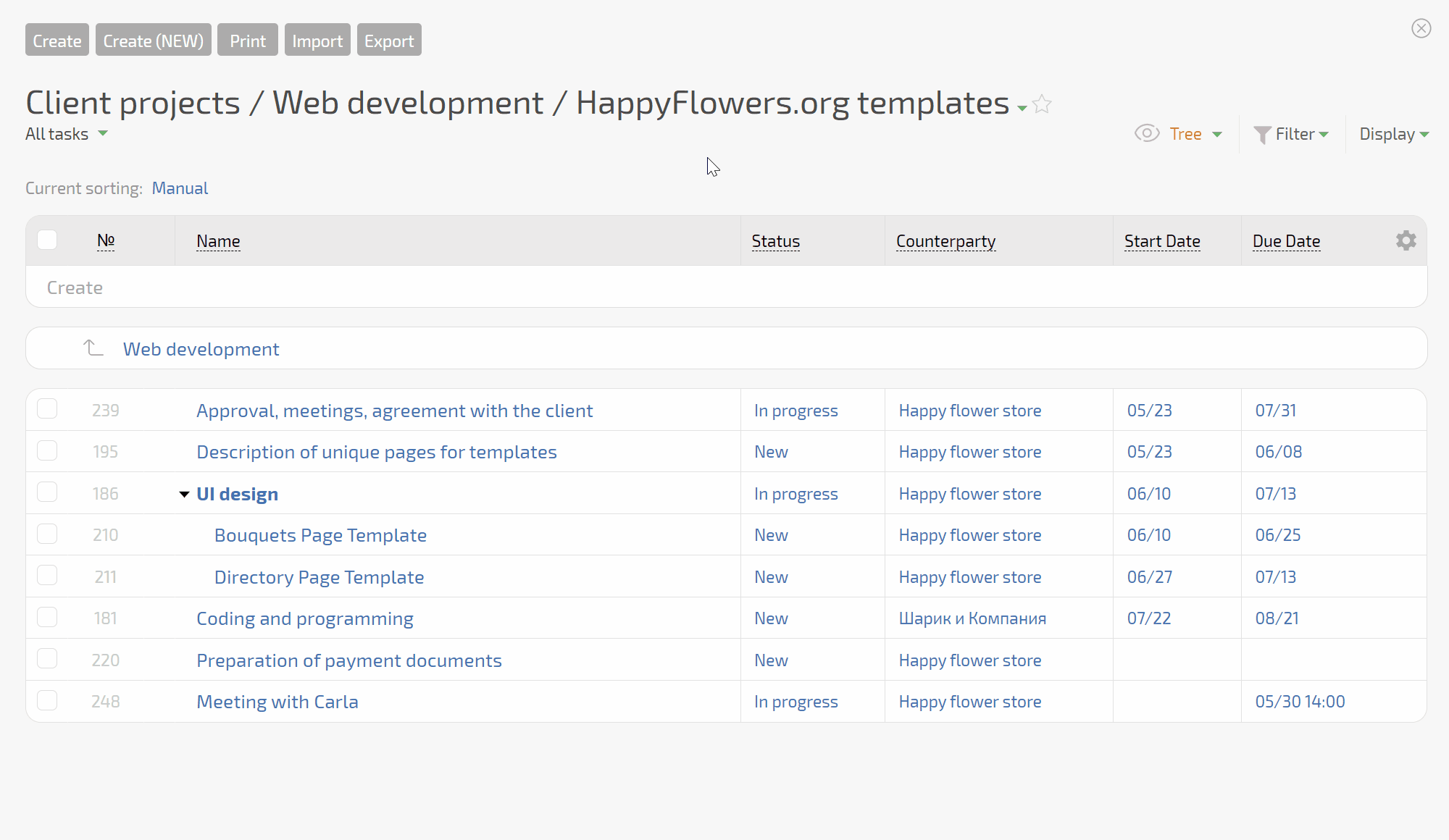 Use Gantt charts to compare a project's current state with its plan and get an idea of what
might be going differently than expected: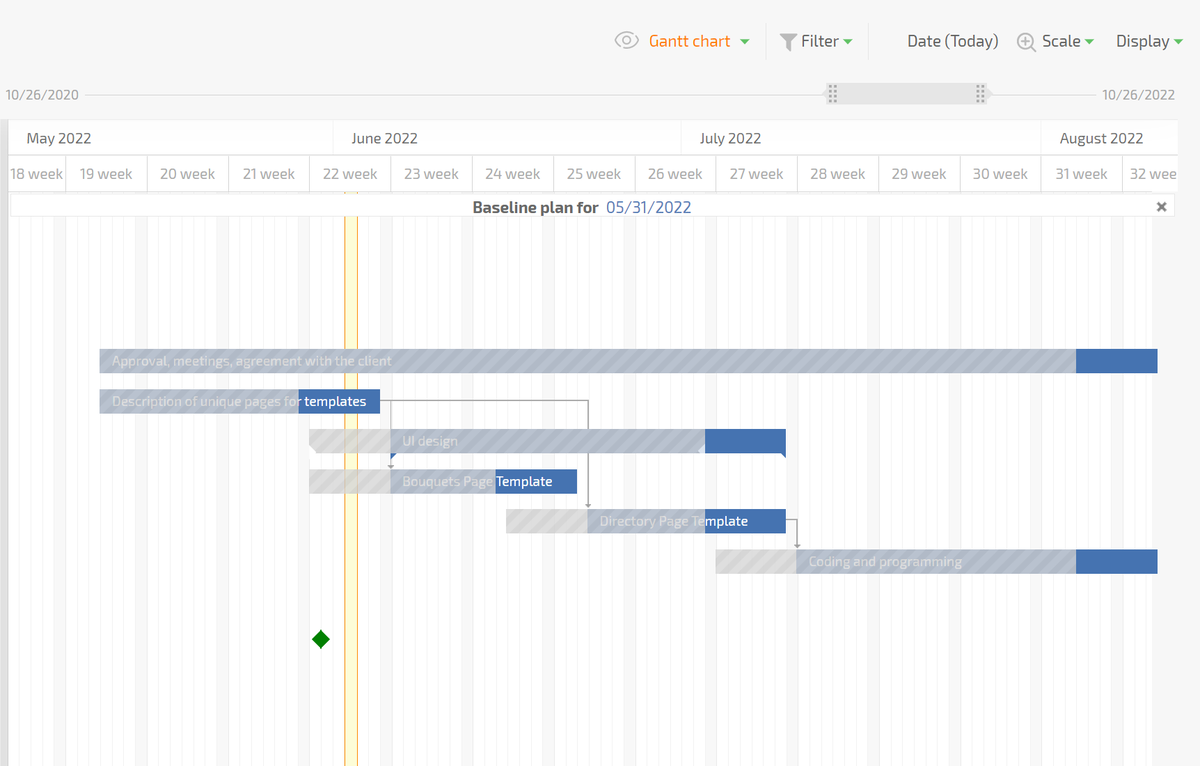 You can see here that there's a holdup in the task called "Catalog Page Template." As a result, the timeframe for the layout and coding have also shifted
The old task timeframe is shown in gray
Gantt charts in Planfix also cover multiple projects. If an employee is involved in
multiple projects, they can see overlaps in their workload on the Gantt chart and make
adjustments: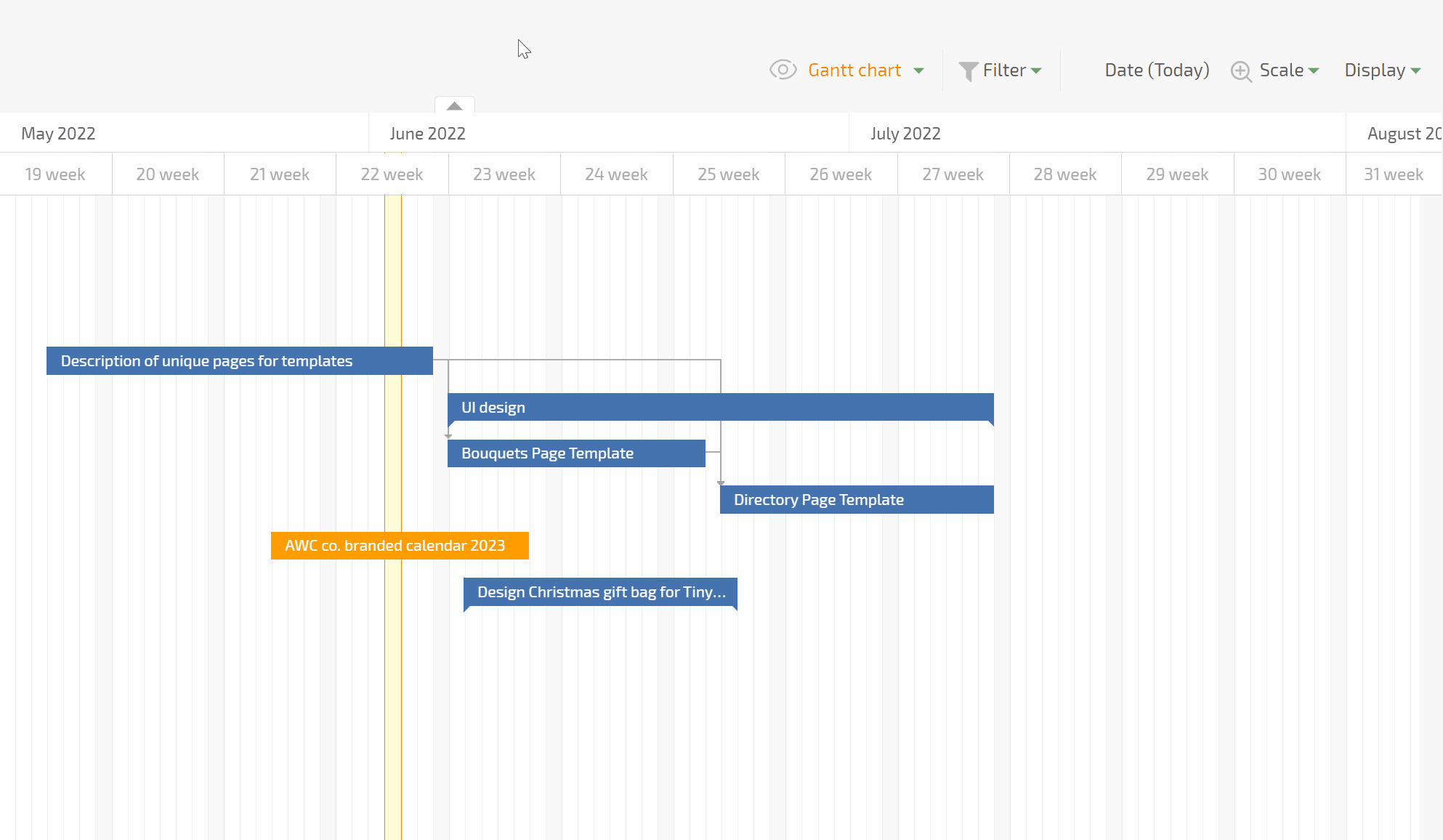 A Planfix original
invention: dynamic
planner boards that you can
customize as desired
Use them to display project tasks exactly as you need
One way is a classic kanban: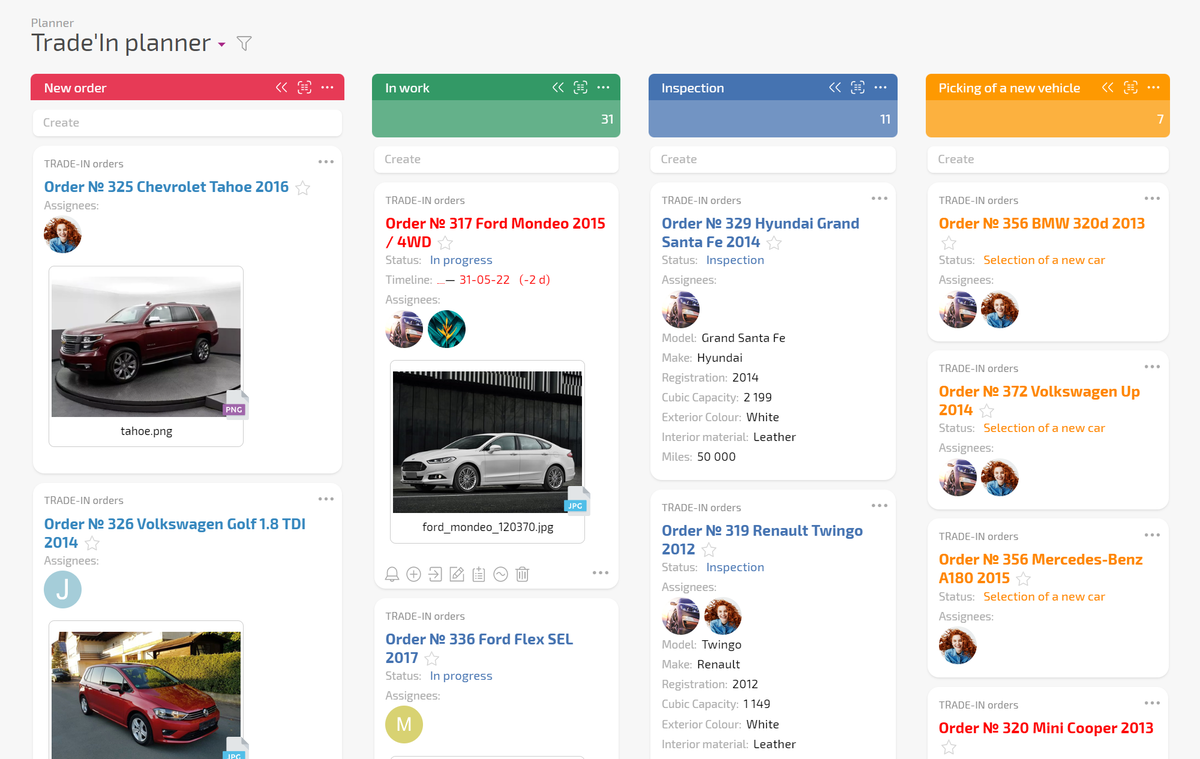 Or try a project calendar: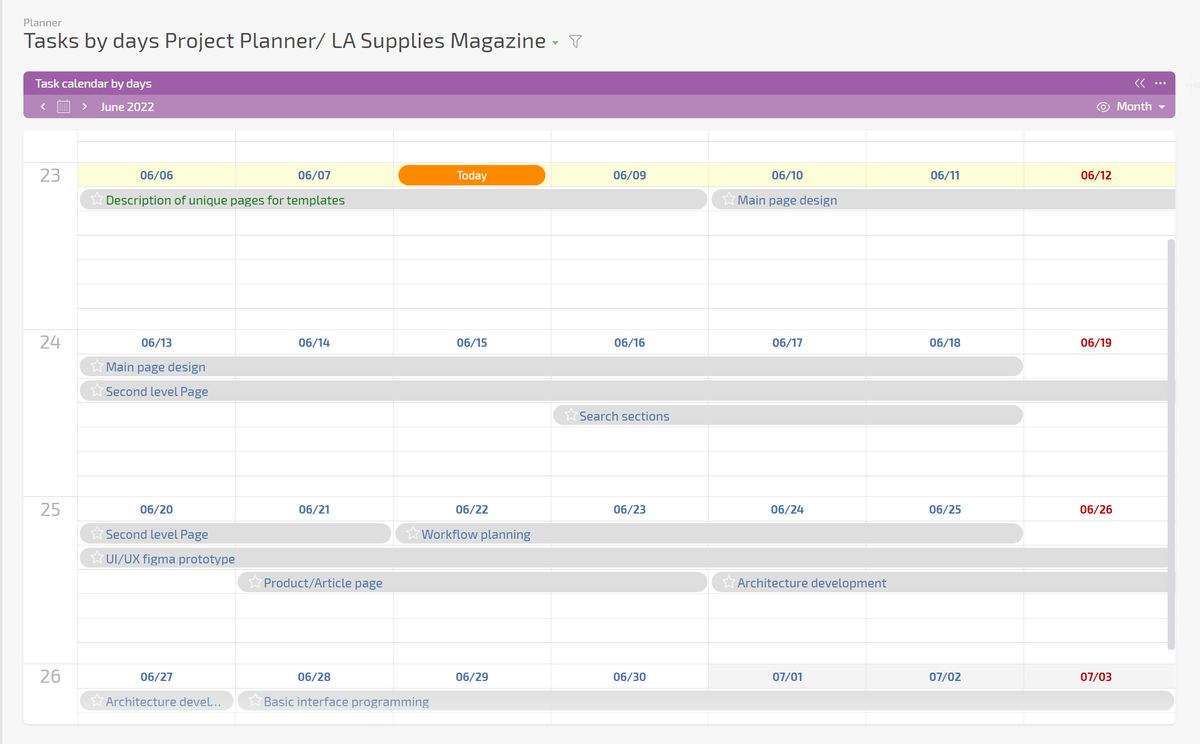 You can put different types of blocks in the same planner.
This gives you a handy dashboard that works
according to your rules: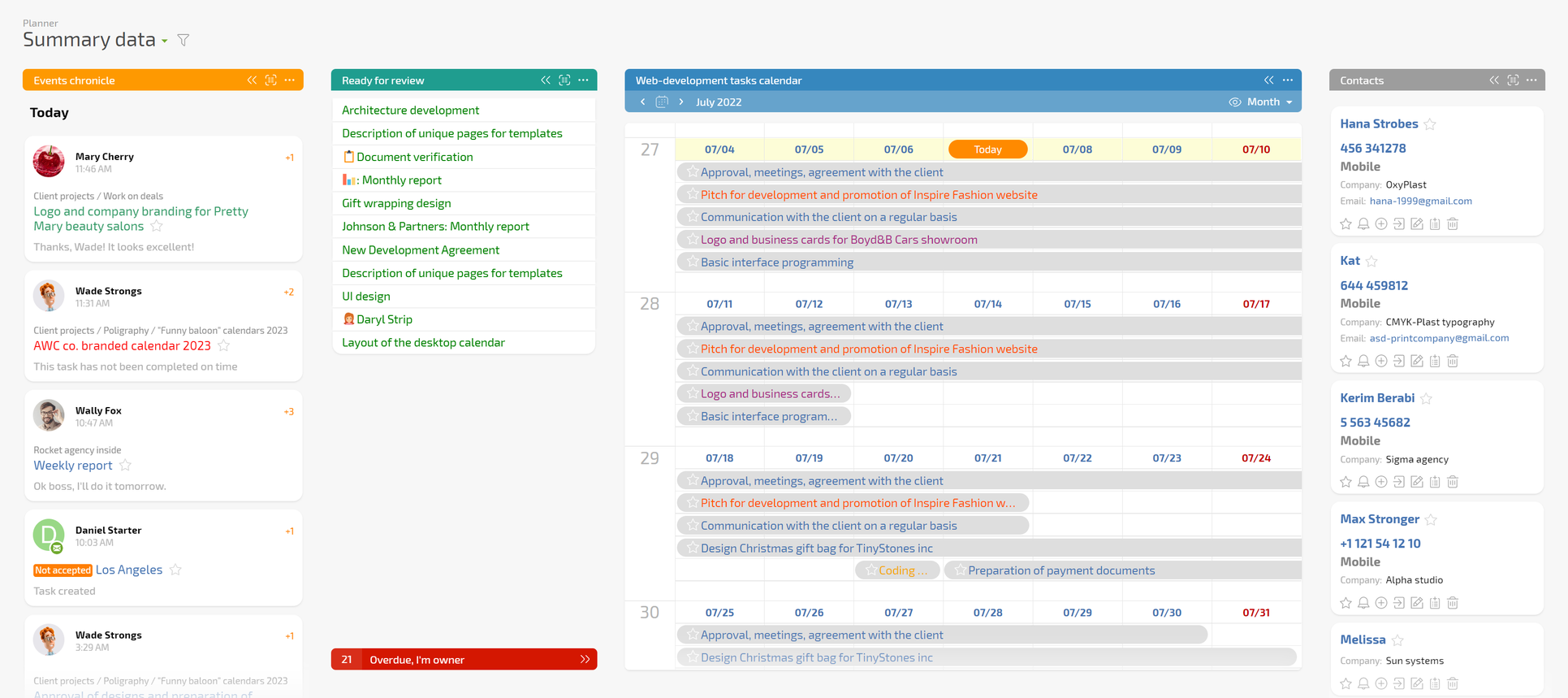 Learn more about Planner
Communicate with colleagues
and clients
Every task within a project is also a chat where all matters related to the task can be
discussed. This means that it's always clear what stage a task is at, what
difficulties have come up, and what those involved have agreed upon: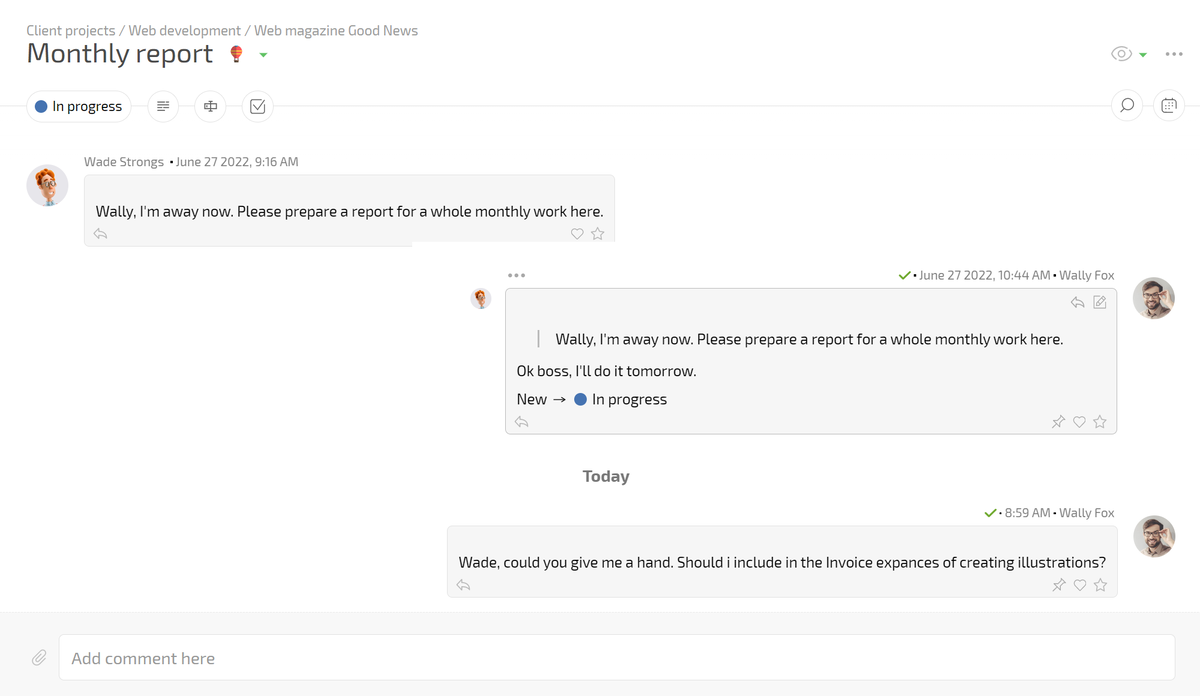 Communication with clients can also be done within a project in a project management tool. The client
will continue using whatever communication channel they prefer, be that email, WhatsApp,
or Telegram: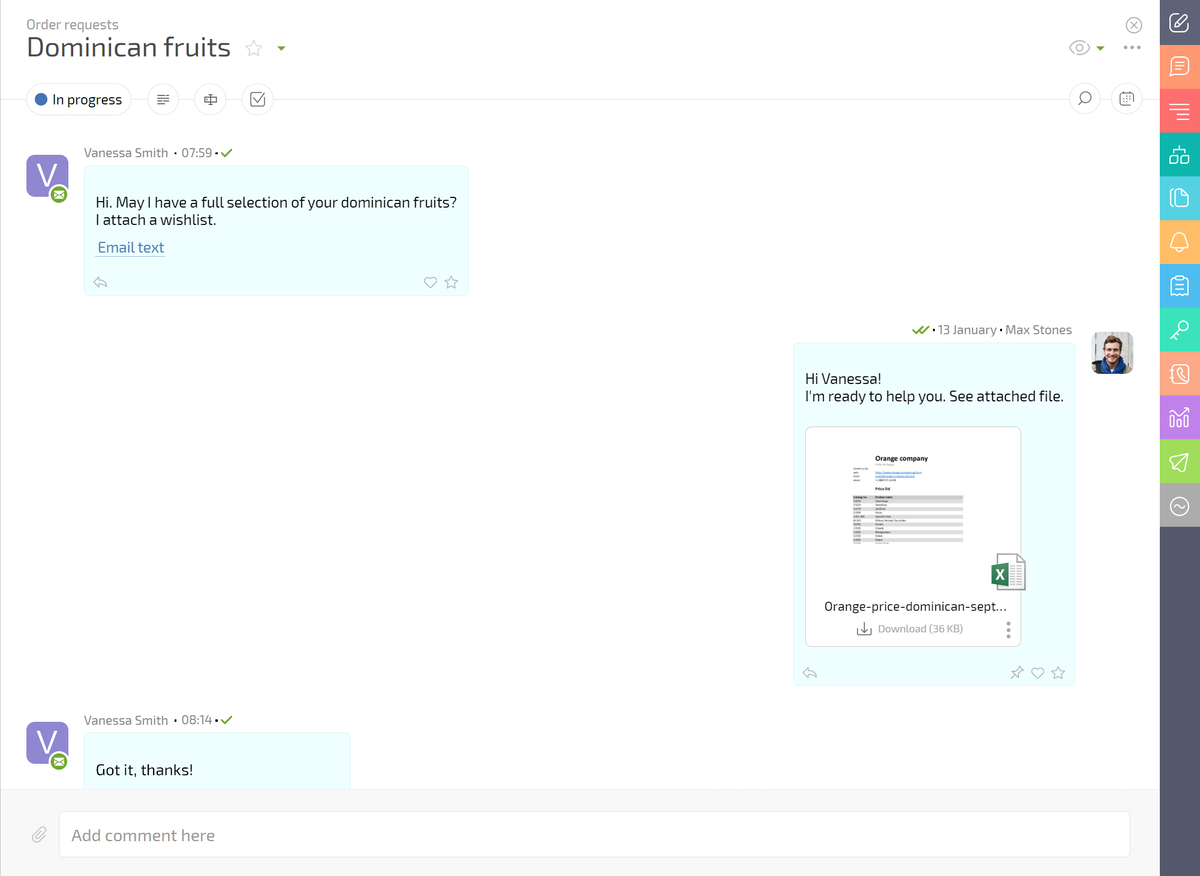 The client writes to you using email, social media, or a messenger
Their messages are turned into the comment feed of a task, and your response in the task will be sent to the client
Learn more about Comments
All conversations are recorded in Planfix. They're easy to find if you need to reference them in the future, or if questions or misunderstandings arise.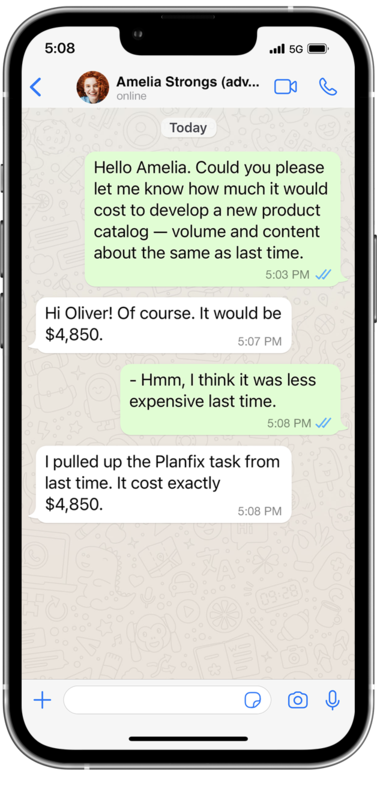 Reminders help plan project activities. Use them so you don't
forget appointments or phone calls: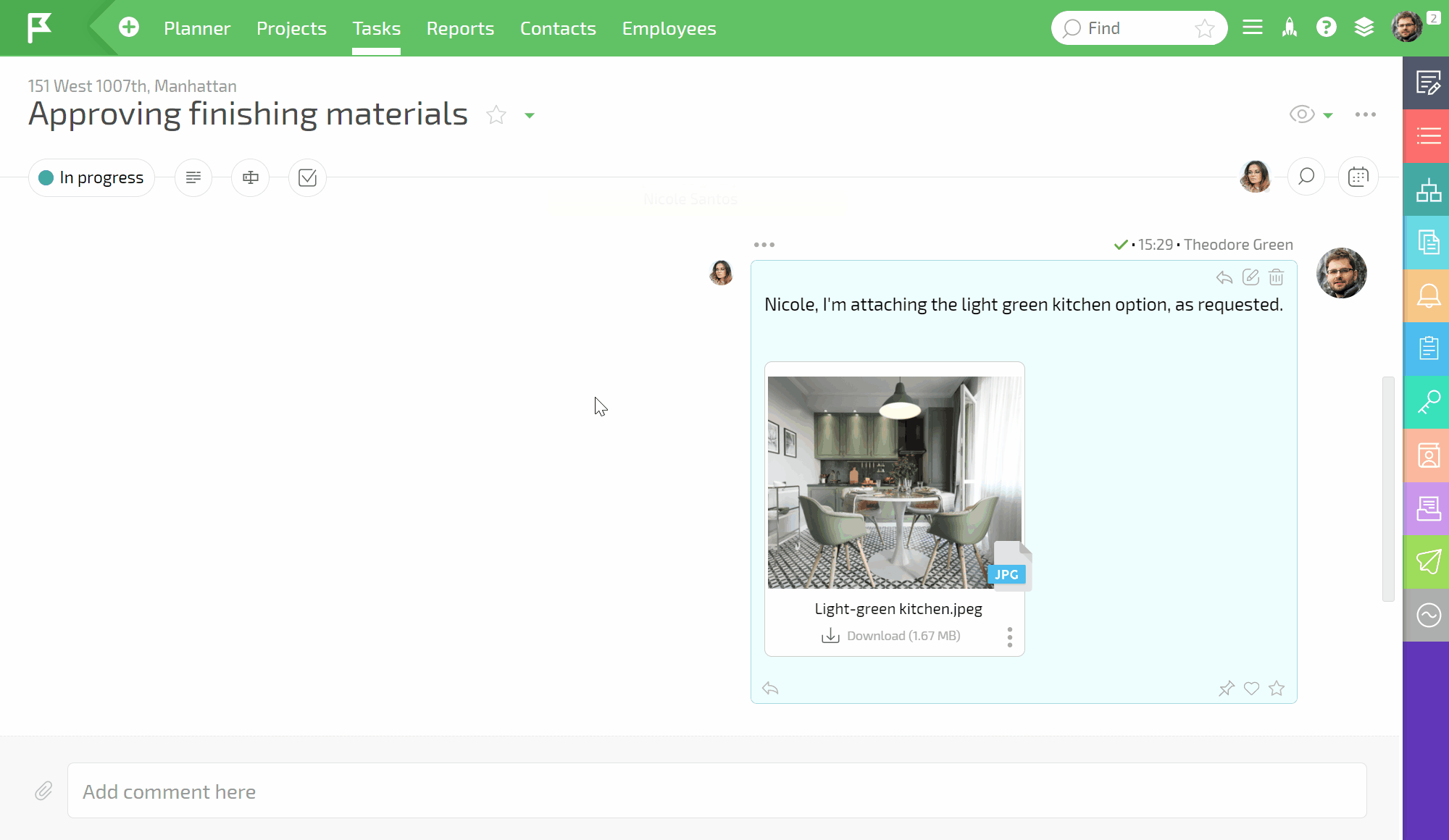 Planfix is a customizable online project management tool. You can give clients
access and they won't see anything in the system that doesn't apply to their work.
Anyhow they'll be able to assign tasks, and accept work directly in Planfix: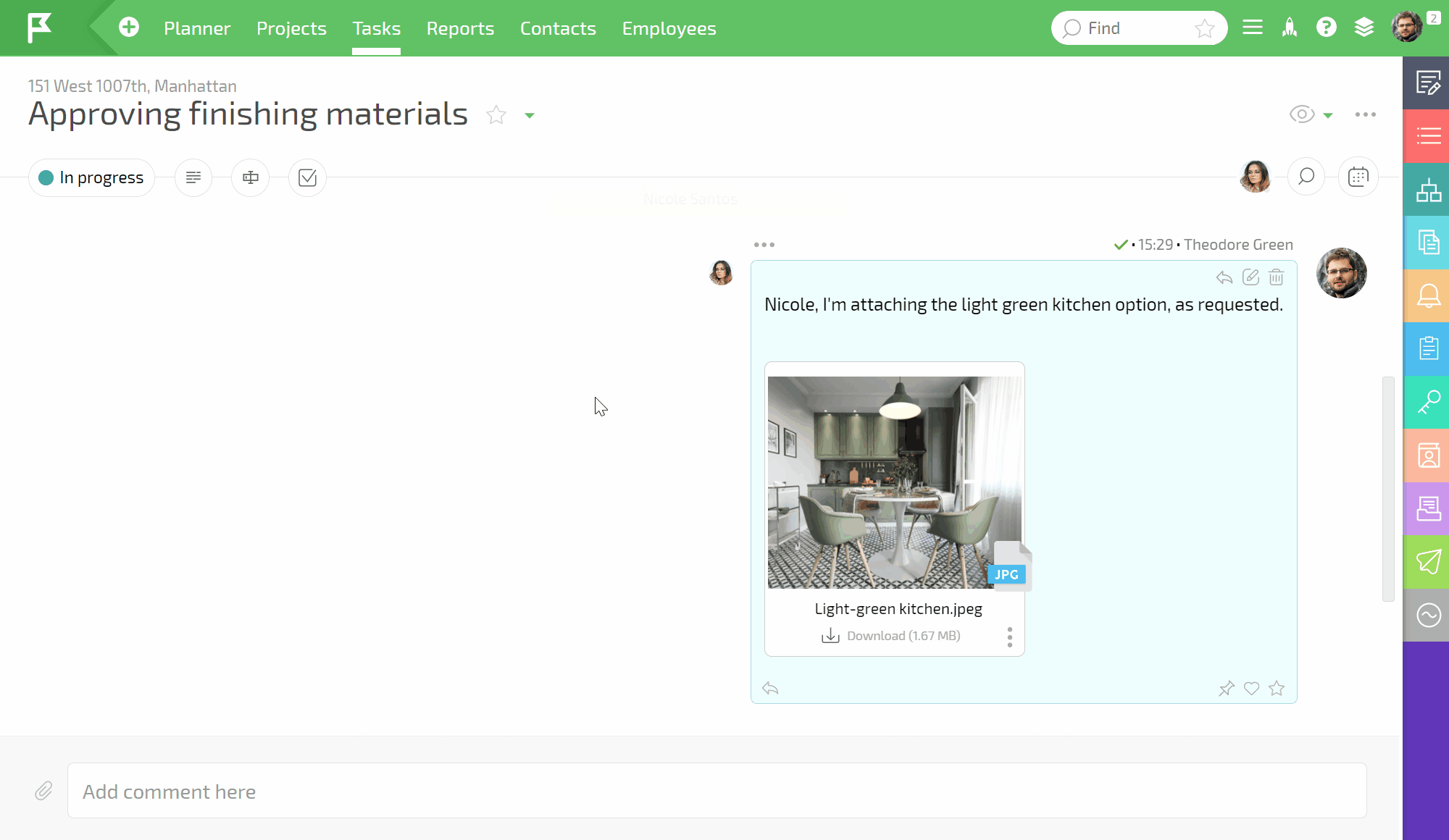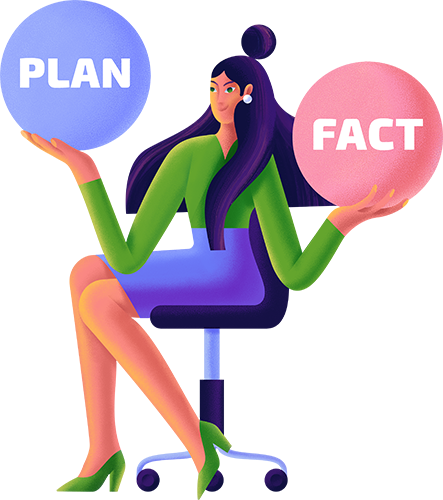 Planfix makes it easy to track planned and actual
project time
Planned project duration can be set at the task level, and actual time spent
can be recorded while working: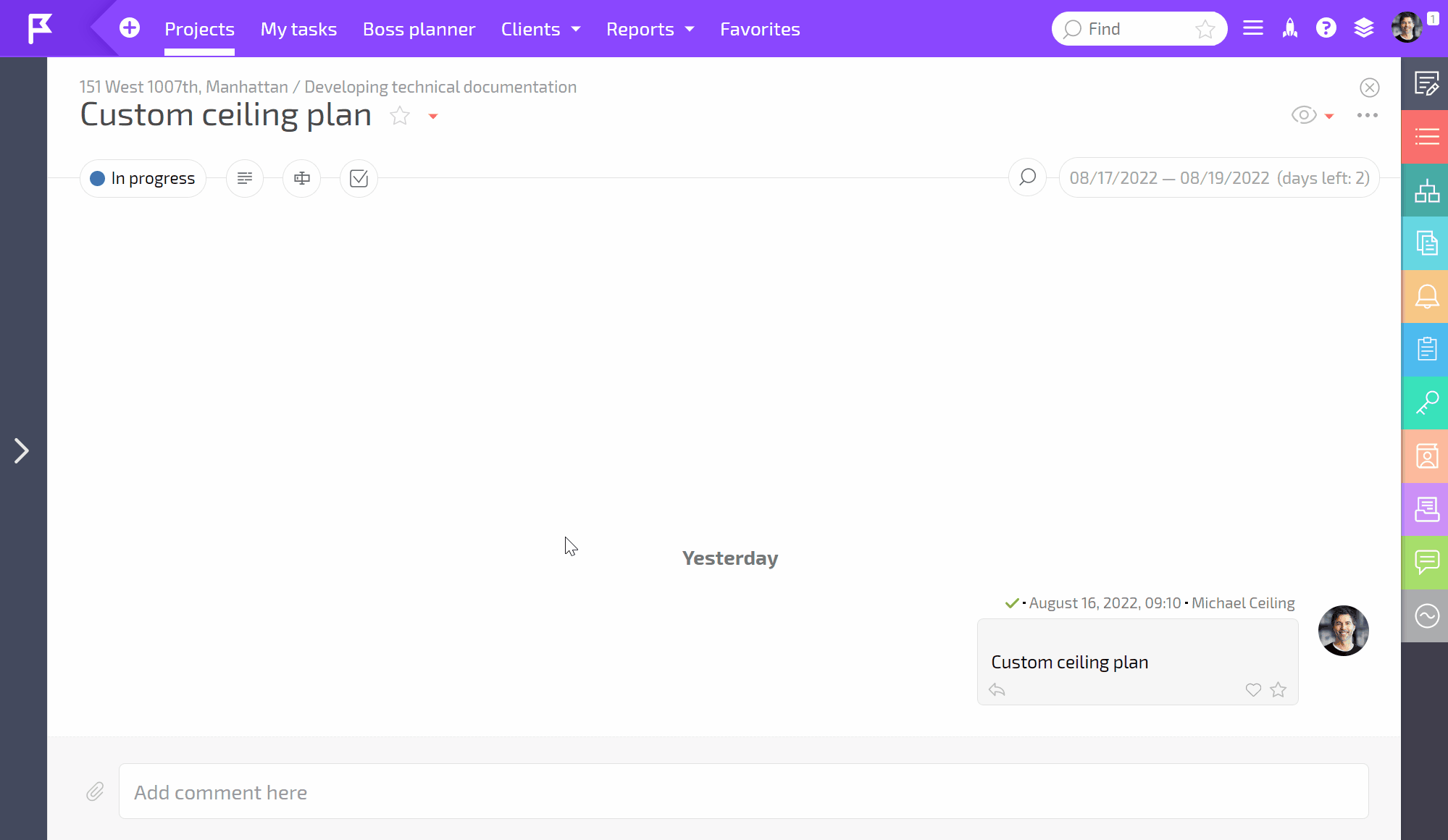 Tracking project finances works the same way: set a plan at the
project or task level and record actual costs and revenue from
clients while working on the project: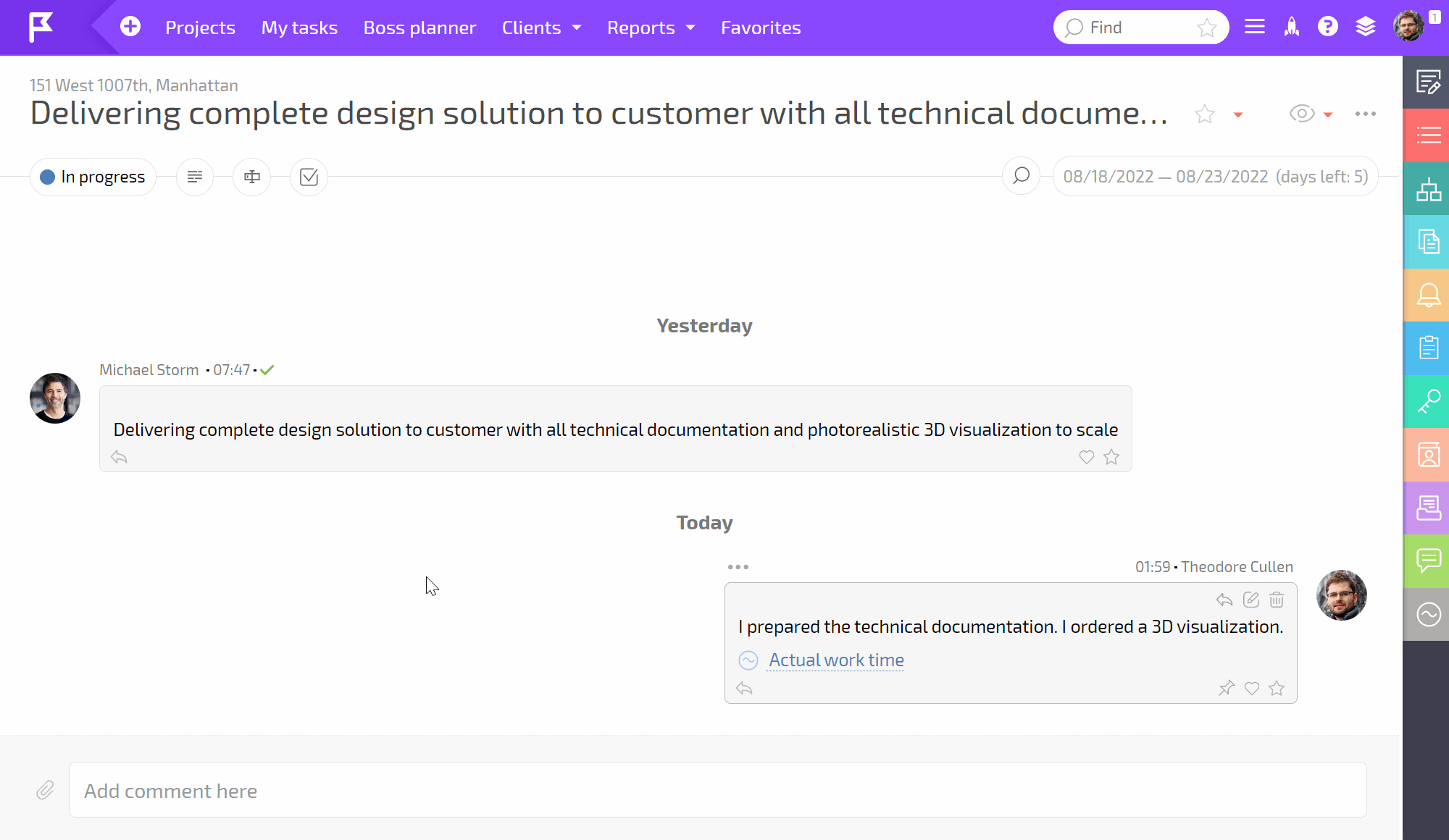 Use reports to view the progress of a specific project
or all projects at any time: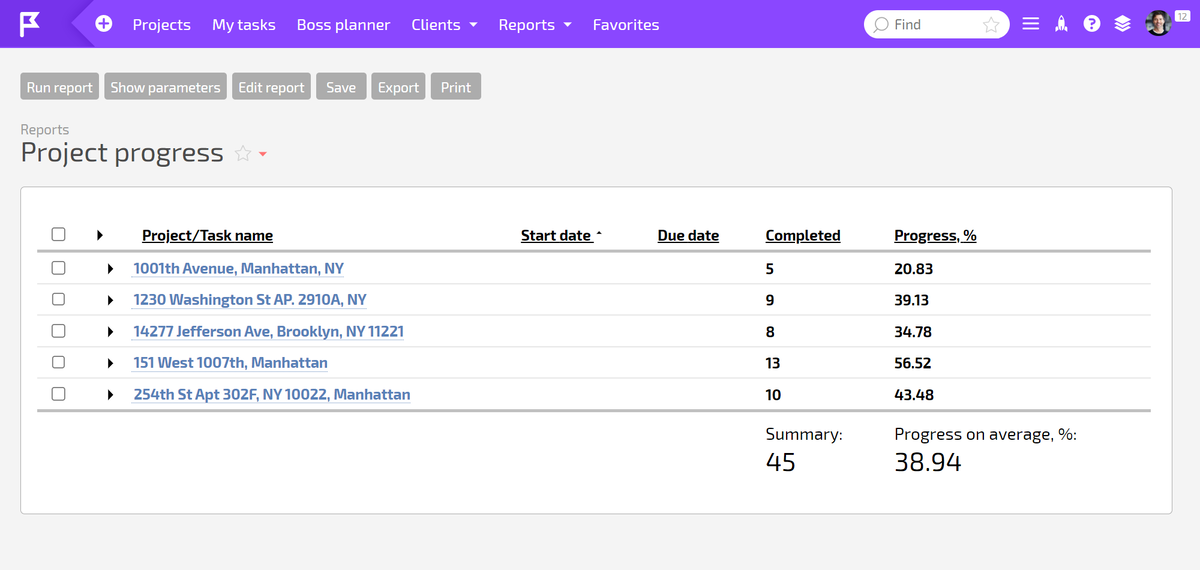 ---
Planfix is different from other agile project management software because you can track exactly what you need to track. To do this, simply add specific details to tasks and data tags.
---
For example, if you want to track expenses by department, add a field
with the list of the departments to the Expenses data tag: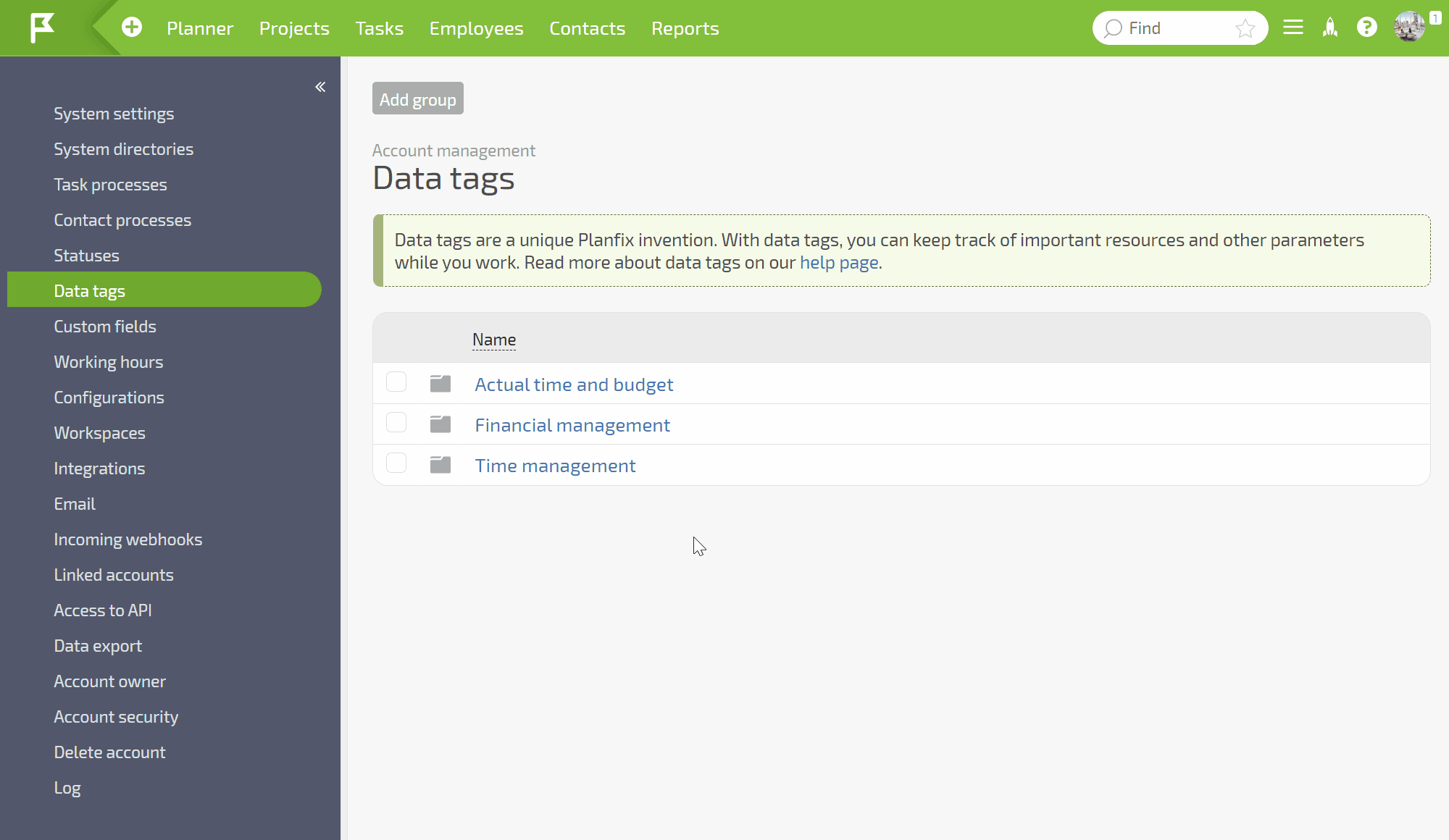 Reports let you gather this data and view it broken out as needed. As with everything in
Planfix, there's no programming required to add reports: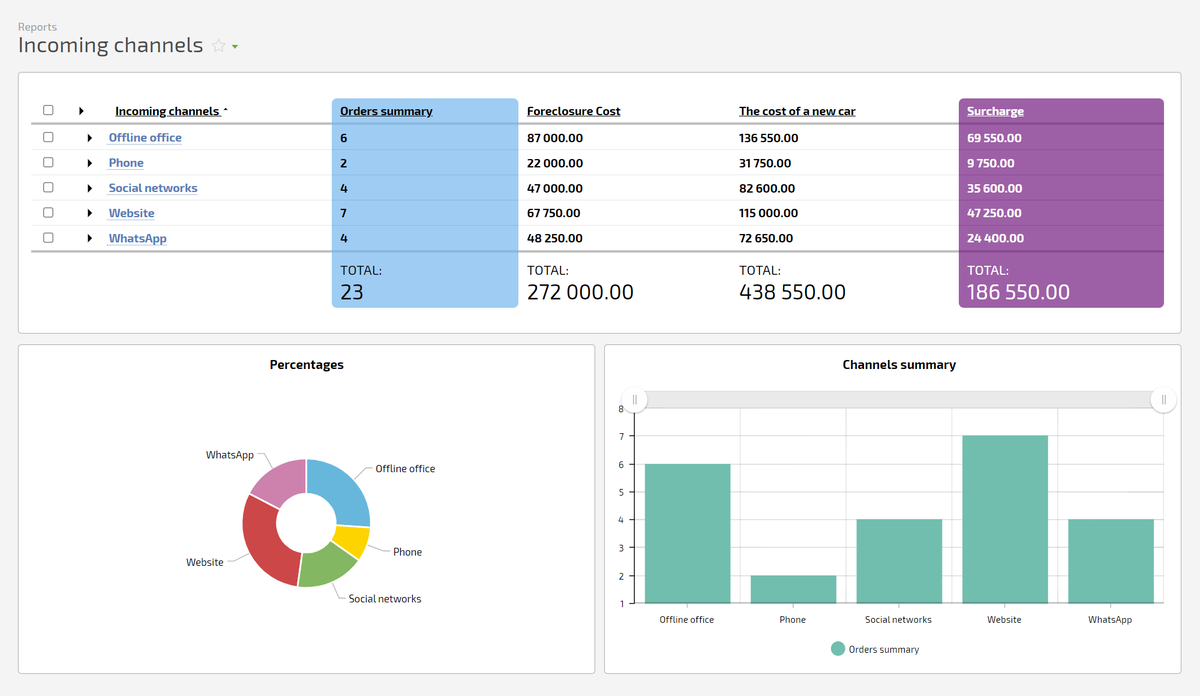 Use this report to view profitable and unprofitable projects: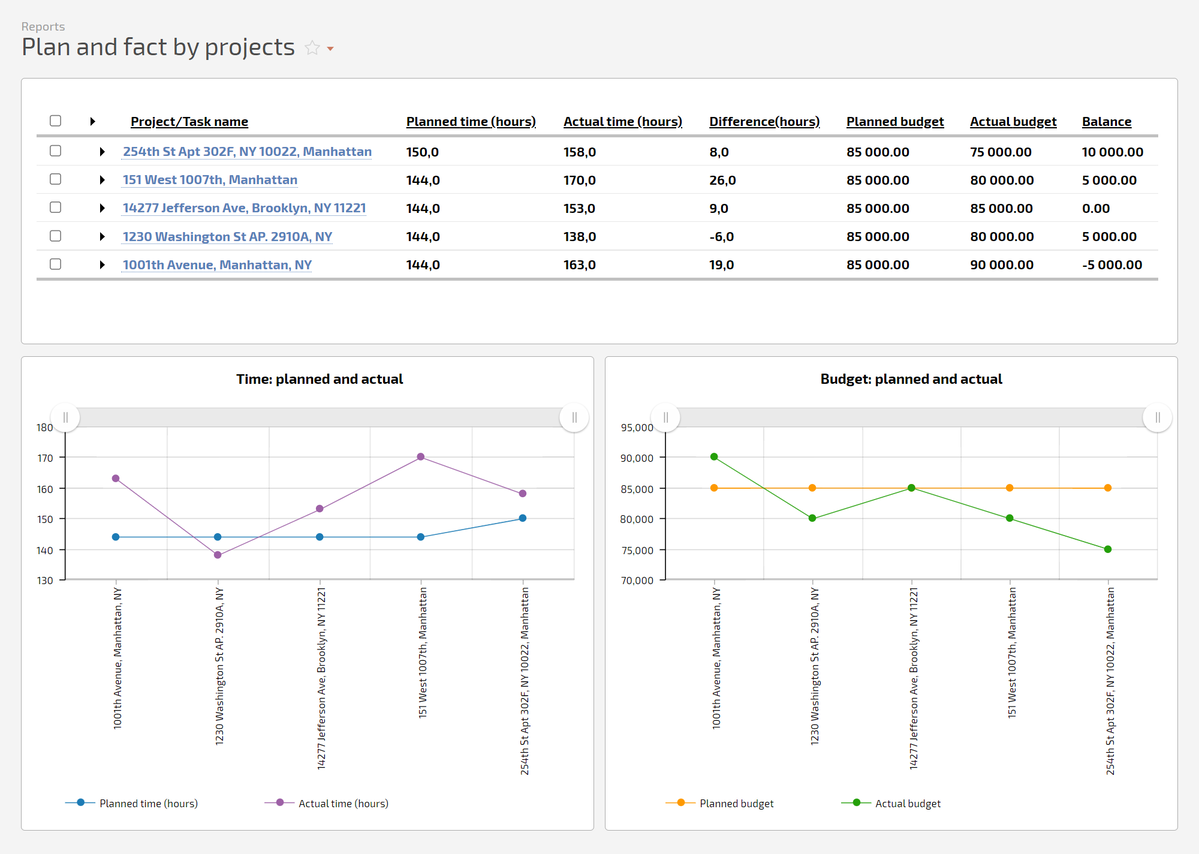 Documents
Any file or document uploaded to a task is automatically
added to the project's folder. You can create your own folders and maintain a database
of project documents: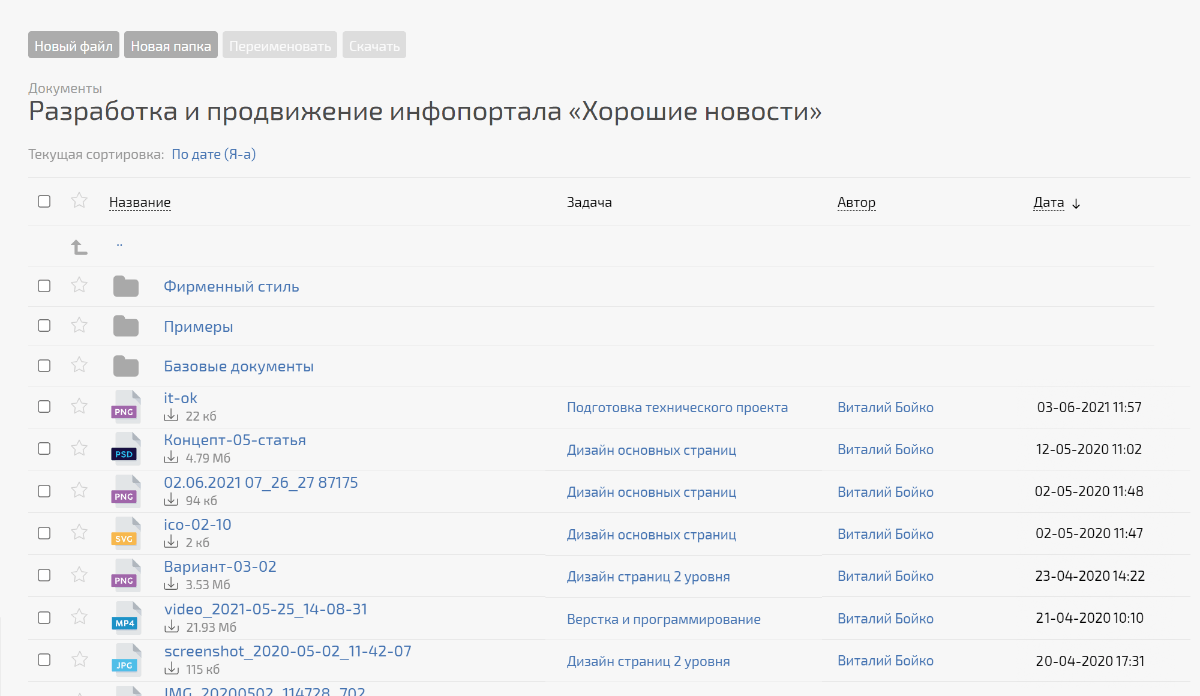 Use folders to group documents
Learn more about Documents
Planfix can automatically generate contracts, bills, invoices, and other
documents that you may need. Just upload a template or
edit our basic template: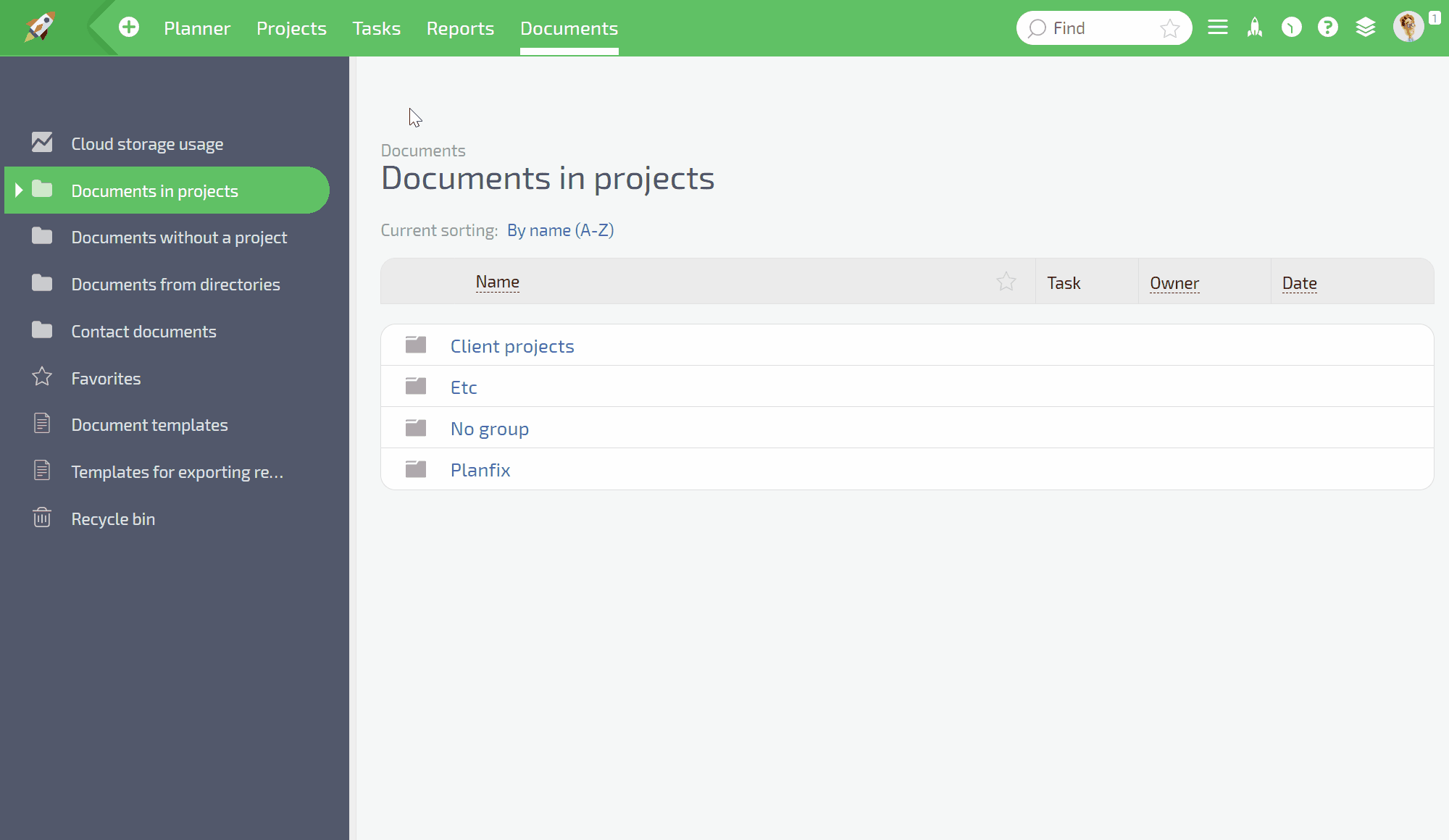 Documents you generate can be discussed by the necessary
people and sent to the client: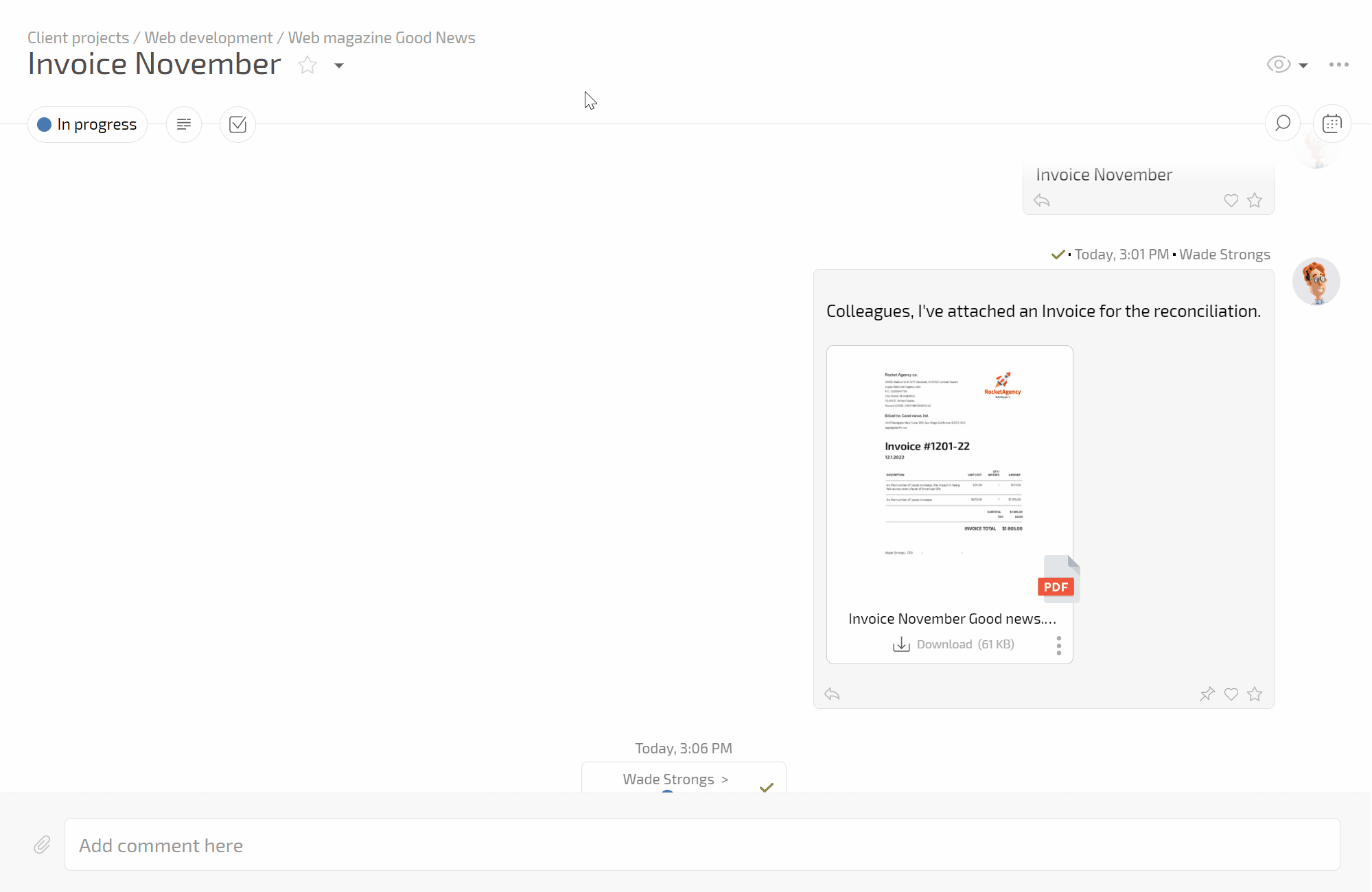 ---
With this approach, you can find
the document you need at any time
and restore the history of work on a
project in all-in-one project
management software.
---
Use all of Planfix's features for 30 days, completely free of charge
Start now